Teen Dating Violence Awareness, warning signs and prevention. Dating. It's a rite of passage that many of us remember with equal parts fondness and horror. Today, however, it's a rite that's more fraught than ever before — and unfortunately for many teens, modern dating anxieties go far beyond failed hairstyles, clothing faux pas, facepalm-worthy blunders, and unsightly blemishes.
According to the Centers for Disease Control and Prevention, about 1 in every 10 teens who has been on a date has also been physically abused by a boyfriend or girlfriend in the last year. Every year, approximately 1.5 million high school students nationwide experience physical abuse from a dating partner. Adding to that danger, researchers report that 3 in 4 parents have never talked to their children about domestic violence.
In recognition of Teen Dating Violence Awareness Month, sponsored by Break the Cycle, we're doing what we can to help raise awareness and to advocate for change.
In this post, we'll share the signs of teen dating violence and we'll also share some tips for helping to prevent this from happening in your community or to a teen you love. There's plenty you can do as a parent, friend, caregiver, or ally to prevent teen dating violence and abuse.
Teen Dating Violence – Warning Signs
We're going to understate something here, and for that, we truly apologize: being a teenager is tough and teenage dating is complicated.
Jealously, impulsivity, unrealistic expectations, self-consciousness, and emotional insecurities are the perfect ingredients for a troubled relationship. Consequently, teenagers are much more likely to be involved in relationships that are unhealthy and have the potential to be physically and/or emotionally abusive.
Studies have found that negative or abusive behaviors in unhealthy relationships are more likely to increase over time. Abuse escalates as the relationship progresses, and victims are more likely to sustain substantial injuries or harm (Teen Dating Violence).
Because every teenager and every relationship is unique, there isn't a blueprint or behavioral checklist for identifying an abusive relationship. There are, however, certain red flags that you can be on the lookout for. Here are some common behaviors that present a very real cause for concern:
Excessive jealousy or insecurity.
Invasions of privacy (access to cell phone passwords, social media passwords, checking text messages without permission, etc…)
Isolation from friends and family.
Unexpected bouts of anger or rage.
Unusual moodiness.
Pressuring a partner into unwanted sexual activity.
Blaming a partner for problems in the relationship and not taking any responsibility for the same.
Demonstrating controlling tendencies.
Emotional manipulation.
Sudden changes in friends and friendships.
Explosive temper.
Preventing a partner from going out with friends or talking to other people.
Constantly monitoring whereabouts and checking in.
False accusations and paranoia.
Vandalizing or ruining personal property.
Taunting or bullying.
Threatening or causing physical violence.
Depression or emotional withdrawal.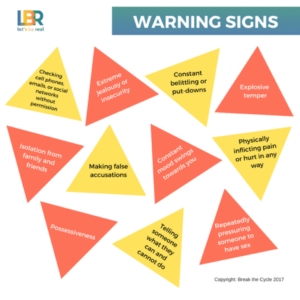 Teen Dating Violence – Ways You Can Help Prevent
One of the most important things you can do to help prevent teen dating violence is to keep the lines of communication open with the teens in your life.
Be a role model by treating your kids and others with respect.
Provide a safe space for teens to share without judgment or blame.
Start talking to your kids and other teenagers in your life about healthy relationships early – before they start dating.
Get involved with efforts to prevent dating violence at your teen's school.
Encourage teens to trust their intuition. If they believe there may be a problem with their relationship, they're probably right!
Do not ignore the warning signs of an abusive relationship.
Encourage teens in romantic relationships to stay in touch with their friends.
Make sure they continue to participate in activities they enjoy and that make them feel good about themselves.
If you are worried about your teen or teenagers you care about, call the loveisrespect helpline at 1-866-331-9474 or text "loveis" to 22522. You can also call the National Domestic Violence Hotline at 800-799-SAFE (7233). Better yet, share these resources with the teens in your life today.
Copyright 2019
LARGO Consulting Services, llc is committed to providing safe and secure environments. For more information about our physical security services, business services, LARGO Secure Schools, and our marketing, social media, and branding services for security professionals, please contact LARGO Consulting Services, llc online, call 833-LARGOCS, or connect with us on Facebook, LinkedIn, and Twitter.